Saddle up! Guest contributor Cowgirl Victoria "Buckaroo" Balloon writes:
A Saturday afternoon at the movies was practically synonymous with seeing a cowboy picture. From exciting serials with cliff-hanging action to full-length features, there are so many greats to choose from—Ken Maynard, Tom Mix, and Gene Autry are just a few—but only one was known as the "King of the Cowboys": Roy Rogers.
Under California Stars, released by Republic Pictures in 1948, is a wonderful example of a Saturday matinee cowboy film. There are no moments of moral ambiguity or brooding cowboys in this picture, no kissing clinches or anything else to make us potentially lose our popcorn. It is top-notch Republic fare featuring Roy Rogers in his prime.
The story begins with Roy, having made it big as a Hollywood star, returning back to the Double R Bar Ranch to make a special 10th anniversary broadcast. But trouble's afoot—a gang of Pop Jordan's henchmen trespass on the ranch to round up some of Roy's horses for meat and hides.
Roy handles them with no problem, but the encounter inspires Pop Jordan and Lige McFarland to plot a worse deed. Using McFarland's young stepson Ted as an unwitting spy, they kidnap Trigger! If Roy pays the ransom, will the evil duo release the palomino, or will they be double-crossed by one of their own? The action is gripping and the uncertainty thrilling right up to the end.
In addition to Roy and Trigger, Under California Stars showcases pretty singer Jane Frazee, comic relief sidekick Andy Devine, and young boy in trouble Michael Chapin (with loveable dog Tramp). The film has the right elements: the Bad Guys are Bad, the climactic chase scenes are truly exciting, and the songs by the Sons of the Pioneers create a perfect "modern" western in which cowboys and station-wagons appear side by side.
The Sons of the Pioneers, co-founded by Bob Nolan, Tim Spencer, and Roy Rogers (then Leonard Slye) were already a popular western singing group on the radio and had appeared in several films, including The Old Corral (1936) and The Big Show (1936) with Gene Autry. When Autry and Republic Pictures had a falling out over money, the studio cast Slye in a role written for Autry and changed his name. In 1938 "Roy Rogers" starred in his first cowboy picture, Under Western Stars.
By the late 1940s, Roy was indeed "King of the Cowboys" with over 70 pictures to his credit. In April 1949, Roy and Trigger forever left their marks in cement in front of Grauman's Chinese Theater in Hollywood.
Art Rush, then manager for Nelson Eddy, succeeded in getting Roy's Republic contract re-written to give the cowboy rights to "his name, voice, and image." Hardly earth shattering stuff in the 1940s, but a clause that made a great deal of difference with the advent of television.
When his contract came up for renewal, Rogers wanted to make television appearances, but like most studios, Republic did not want its stars to appear in the new medium.
In 1950 Rogers made his last film with Republic, Pals of the Golden West, and by late December 1951 he and wife Dale Evans launched The Roy Rogers Show on NBC. The show closed with the now iconic "Happy Trails" song, written by Dale and sung by the pair at the closing of each show.
With the popularity of the television show, Roy Rogers' name and likeness appeared on countless products: hats, shirts, cap pistols, blankets, and dearest to the heart of many a child of the 1950s, the Roy Rogers lunchbox.
Roy was very particular about the products that bore his name, and if he didn't believe it was a good product, or he didn't like the quality, he didn't renew his endorsement. In the 1950s, Roy Rogers was second to only Walt Disney for the number of products that bore his likeness.
Roy Rogers always gave screen credit to Trigger, the palomino stallion billed as "The Smartest Horse in the Movies." But Trigger's first big break in pictures was not with Roy, or even in a Western film. Watch carefully—in The Adventures of Robin Hood (1938), when Maid Marian and her entourage enter Sherwood forest and Robin Hood swings by on a vine, that's Trigger Olivia de Havilland is riding—or as he was then known, "Golden Cloud," after ranch manager Roy F. Cloud and his own golden coat.
When filming began for Under Western Stars, Golden Cloud was one of several horses brought in for Roy to choose from. As soon as Roy mounted up, he knew from the easy way the horse handled that this horse was the one. It was Smiley Burnette, Roy's sidekick in the film, who made the comment that the well-trained palomino was "quick on the trigger." Roy agreed.
After the film's release, Roy felt his popularity with movie audiences was in part due to the striking palomino horse. Despite making only $75 a week, Roy paid the incredible sum of $2,500 dollars (roughly $30,000 today) and made installments payments, "just like a bedroom set," because he knew he had to have that horse. Thus was formed one of the most lasting partnerships in movie history.
When it comes to Roy Rogers' films, the leading lady that naturally comes to mind is Dale Evans. Born in Texas, by the time she was 28 she had changed her name from Frances Octavia Smith, had a 13 year-old son, and was working hard to make a career through her singing. Under contract with Republic Pictures in 1943, Dale refused an initial film with Roy because she felt westerns were unsophisticated and the wrong showcase for her talent. She was later pressured by Republic studio head Herbert Yates into making The Cowboy and the Senorita in1944. Despite her initial assessment of her leading man as "quiet and shy," Roy and Dale soon developed an easy friendship over the course of making nearly 20 pictures together.
Still hoping for roles in more mainstream musicals, Dale left Republic and went on a singing tour, possibly hastening the end of her second marriage. Republic enticed her back, but her non-western films The Trespasser and Slippy McGee did not do well. Roy was also having some personal troubles: in 1946 his second wife died after giving birth to their third child. When Roy asked her to make another western, Dale agreed; when he proposed to her in late 1947, she agreed to that as well.
But after Dale and Roy were married, Republic stopped casting them together in films for a while, under the assumption that no one wanted to see a married couple on screen together—hence Dale had no role in Under California Stars. It was during this time, from roughly 1947-48 as Dale pursued success outside of westerns and then settled into married life, that Jane Frazee made five films with Roy.
Frazee might be best known for her role opposite Bud Abbott and Lou Costello in Buck Privates (1941), but the pretty girl with the pleasant voice also did many B-westerns and a few television series. From 1954-55 while Phyllis Coates concentrated on television work, Frazee played Alice McDoakes in the Joe McDoakes shorts. Frazee's last film was one of the McDoakes shorts, after which she retired from films to work in real estate.
Under California Stars is not a groundbreaking film by any means; it is simply a fun, pleasant film with all the themes Americans once enjoyed at the movies. Because it stars Roy Rogers, we know that nothing truly bad will ever happen, though we will be on the edge of our seats wondering how Roy and Trigger will escape each danger. The villains are immediately recognizable and meet satisfying ends, while the distinctive high, raspy voice and antics of Andy Divine offset the serious drama. And what kid wouldn't want to be like Michael Chapin (brother of Lauren Chapin from the 1950s television series Father Knows Best), helping Roy rescue Trigger?
If Under California Stars film has one fault, it is the scene where Roy "falls off" Trigger. The idea of Roy "falling off" any horse is inconceivable. The only explanation for this outlandish plot device is that Roy actually "slides" off Trigger, thus allowing himself to pursue MacFarland on foot and Trigger to deal with MacFarland's horse. Roy was very proud that, in over 80 films, Trigger never stumbled. Both Roy and Trigger filmed their own stunts, and Under California Stars certainly packs a lot of action.
There is a characteristic "look" to color western films from this time, in large part due to Republic Pictures' use of the Trucolor color process. Trucolor films were shot with two (in later years, three) strips of film sensitized to red and green. Both negatives were processed on duplitized film and dyed with a color coupler.
Unfortunately, the chemical composition of Trucolor film fades more readily, unlike Cinecolor, and both fade more readily than the more expensive Technicolor process. Republic shot many of its films from the 40s and 50s in Trucolor, the first being Out California Way (1946), which had Roy Rogers and Trigger making cameo appearances. Under California Stars was one of at least 50 films that used the process.
With two notable exceptions worth watching (Dark Command and Carson City Kid, both from 1940) Roy Rogers essentially plays himself in his films, if not actually in name. His hat is always white and he shoots straight. He is deferential to the law, unerringly polite, gentle with children and animals, and unabashedly religious. He asked for these same qualities from the members of his fan club, the Roy Rogers Riders Club (the club rules were printed on the back of each membership card). He understood he was a role model for children, and he was humbled by his position.
Roy Rogers was "Roy" without artifice or pretense. Even in writing this piece, one does not find references to "Rogers"—he is always simply "Roy." A recurring theme in remembrances of people who knew him is how fans everywhere would ask, "Is he really the same as he appears onscreen?" They were asking, is he really that kind? Is he really that generous? And the answer always seems to be "Yes." In Under California Stars, both the kindness and genuineness of Roy Rogers shines through.
And now, enjoy a Republic short (also filmed in Trucolor), featuring Roy reciting the Cowboy's Prayer as he and Trigger appear onscreen as part of Saturday matinee meeting of the Roy Rogers Riders Club: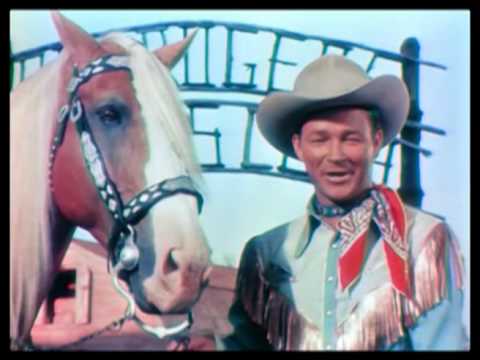 Victoria Balloon is a writer, classic film enthusiast and pop-culture pundit. In addition to knitting small appliances, Victoria is currently involved in helping to bring back the Matinee At The Bijou TV series in an HD sequel to be hosted by Debbie Reynolds.