Hard to believe, but it really was a half-century ago today that moviegoers were introduced to Bond…James Bond, as the first 007 feature film found Her Majesty's top spy (Sean Connery) investigating mysterious goings-on at a small Jamaican port, where he met the bikini-clad Honey Rider (Ursula Andress) and foiled the schemes of the diabolical Dr. No (Joseph Wiseman). Here are 10 trivia facts about Dr. No. There are hundreds of pieces of behind-the-scenes information about this movie. Please feel free to comment and add more trivia we might have missed.
1. Dr. No had its World Premiere on October 5, 1962 at the London Pavilion in Piccadilly Circus. Star Sean Connery and 007 creator Ian Fleming were both in attendance.
2. Although a contest was run to find the actor who would play James Bond, producer Albert R. Broccoli saw Sean Connery in Disney's Darby O'Gill and the Little People and decided he was the one. As it turned out, the actual contest winner didn't have enough acting experience to carry it off.
3. When Connery was selected as Bond, author Ian Fleming wasn't nuts about the choice. First, Sean is Scottish and the Bond character is English. Connery comes off as being rugged, while the 007 of Fleming's books is actually well-educated and quite refined. But, as filming progressed, Fleming would come to agree that the casting was spot on.
4. Of all the Bond novels, Dr. No was the first filmed due to its ease of understanding. As a bonus for the producers, nearly all the action was set in Jamaica, a fact that helped them keep location costs down.
5. Dr. No is also unique in that of all the films featuring SPECTRE as the superspy's nemesis, the organization's supreme commander, Blofeld, never appears.
6. As Ian Fleming's cousin, Christopher Lee was the author's first choice to play Dr. No. Other actors considered for the part were Max von Sydow and Noel Coward, both of whom turned it down before the role was awarded to Joseph Wiseman. Eventually Lee did play a Bond villain when he was Scaramanga in The Man with the Golden Gun (1974). Also, von Sydow became an 007 villain when he played Blofeld in 1983's Never Say Never Again. Only Coward was never cast in a Bond movie. Reportedly he sent Fleming a cable stating, "Dr. No? No! No! No!"
7. Rumor has it that after Ian Fleming first saw Dr. No, he said, "Dreadful. Simply dreadful."
8. Before directing chores went to Terence Young, it was offered to Bryan Forbes, Guy Hamilton, Guy Green and Ken Hughes, who all turned it down. Also under consideration was Phil Karlson. After the film's success, Young came back to helm two more 007 movies: From Russia with Love (1963) and Thunderball (1965).
9. Until Quantum of Solace was released in 2008,  Dr. No–with a running time of 106 minutes–was the shortest of all the Bond films, clocking in at 111 minutes. Diehard 007 trivia buffs know that 1964's Goldfinger also runs 111 minutes.
10. Don't believe it — Ursula Andress is not naked in the shower scene. Some people refuse to accept that she's wearing one of those flesh-colored bathing suits…but she is. The role of Honey Rider was the last major part to be cast and Andress got the job when a photograph of her taken by hubby John Derek was shown to the producers, who offered her the opportunity without having met her in person. Although she had already appeared on film eight years earlier, Ursula wasn't interested in an acting career at the time, and only accepted after her friend Kirk Douglas recommended playing the first "Bond Bombshell."
And now for your enjoyment, please say "yes" and watch the 1962 theatrical trailer for Dr. No: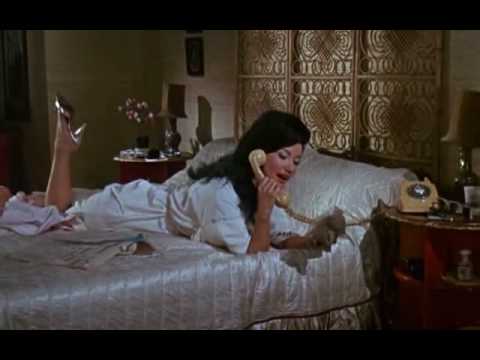 Please see our additional articles on James Bond:
Who's Your Favorite James Bond Movie Henchman?
Nobody Does Bond Better, 001: The Connery Craze
Nobody Does Bond Better, 002: George Lazenby
Nobody Does Bond Better, 003: Roger Moore