Okay, the above headline is probably not the most original one you'll see this week, as plenty of newspaper articles, TV reports and other online reviews will use it or some variation on it to commemorate the golden anniversary of 1965's A Charlie Brown Christmas. The first cartoon special featuring the Peanuts gang, it's been broadcast every year since its debut. In that time, it's become a pop culture touchstone for three generations and certainly has come to rank alongside Rudolph the Red Nosed Reindeer (which turned 50 last year) and How the Grinch Stole Christmas (marking its own half-century next year) as one of the three best-loved animated holiday shows of all time.
All of this apparently came as a great surprise to Peanuts creator Charles M. Schulz, who was hesitant at first when producer Lee Mendelson approached the cartoonist in the early '60s with visions of a TV documentary about the comic strip's success. Schulz eventually came around, and suggested to Mendelson that the animated sequences in the program be handled by filmmaker Bill Melendez, whom he worked with on a series of commercials for Ford featuring Charlie Brown and company.
If Schulz was a hard sell, however, so were the TV networks, who didn't see the potential in a Peanuts TV special. That is, not until the spring of 1965, when the Coca-Cola Company, looking for a holiday show to sponsor, showed interest in backing a half-hour animated Yuletide story à la Rudolph or the earlier Mr. Magoo's Christmas Carol. And so it was that Schulz, Menendez and company worked out a outline in five days and had just six months to put their project together for a December broadcast on CBS.
Ironically, it was this incredibly tight production schedule that enabled the creators to ignore some of the complaints that came from the network. Among the things they didn't like were the show's now-iconic jazz score by Vince Guaraldi, its voice cast of child actors (some of whom so young they couldn't read and had to record their lines one or two words at a time, giving the dialogue that distinctively halting sound), and the absence of that TV comedy staple, a laugh track. No one seemed to mind the theme of anti-commercialism, but what made CBS (and, to a lesser degree, Coca-Cola) most nervous, however, was what's now considered one of the program's key moments: Linus's recitation of the Nativity story from the Gospel of Luke. That was a little too much Christianity, the network feared, even for a Christmas show, but the very devout Schulz was insistent that the scene stay in, telling his collaborators "If we don't do it, who will?"
And thus, with all these elements intact, A Charlie Brown Christmas was ready to go. Despite Bill Melendez's fearful reaction–"My golly, we killed it!," echoing what Charlie Brown was afraid he had done to his unloved Christmas tree–at a test screening, the special made its debut on December 9, 1965, pre-empting The Munsters. It was watched by a remarkable 45% of the evening's viewing public, finishing as the second-highest rated show of the week. Critical reaction was overwhelmingly favorable, although one group that was less than pleased was the makers of aluminum Christmas trees, who said that the less-than-flattering on-air depiction of their product helped kill their business. The show would also go on to win an Emmy Award for Outstanding Children's Program, and an enthusiastic CBS would greenlight two more specials–Charlie's Brown's All-Stars and It's the Great Pumpkin, Charlie Brown–for the following year, the start of a series of more than 40 over the next five decades.
Like everyone else out there who grew up with A Charlie Brown Christmas (I was seven in '65 and had just started reading the comic strip paperback collections) as an annual must-see, I have my own set of memorable moments from the show. And so…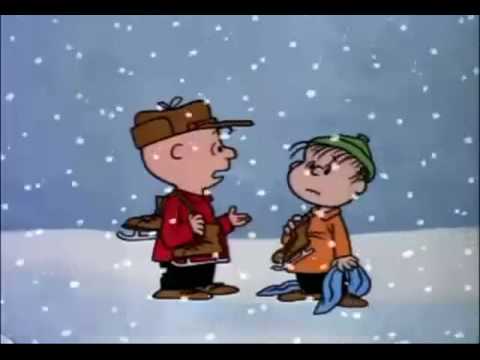 Here's to how the song "Christmas Time Is Here" has become required music at skating rinks around the world during the holiday season.
Here's to Snoopy imitating Lucy during the play rehearsal, licking her on the nose during their would-be fight, and then going "BLEEAAAHH!" (By the way, the reason Snoopy seemed to get most of the action scenes in the show was that the artists found it much easier to animate the beagle than the kids).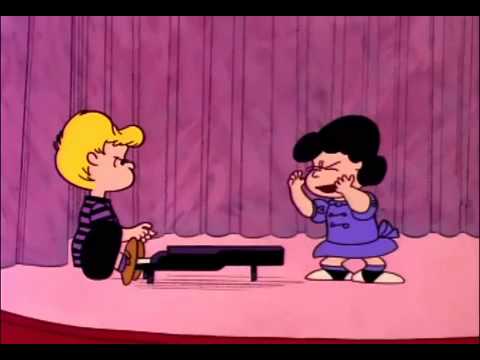 Here's to Lucy instructing Schroeder on the proper way to play "Jingle Bells" on a toy piano.
There were only four characters present in the comic strip's earliest days: Charlie Brown, Snoopy, Patty (not to be confused with the later Peppermint Patty), and the "Chuck Cunningham" of the Peanuts cast, crew-cut Shermy. Here's to Shermy–who finally turned up again in this year's The Peanuts Movie–and his only line in the special: "Every Christmas it's the same: I always end up playing a shepherd."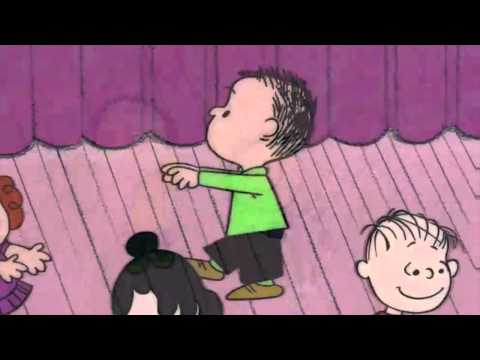 And here's to one of the all-time great cartoon dance scenes. Speaking of forgotten characters, how many of you out there have wondered who those twin girls dancing are? Well, it turns out they are named 3 and 4, and they're the sisters of the boy in the orange shirt. He is none other than 5 (full name 555 95472), a minor figure who debuted on the funny pages in 1963. Their numerical nomenclature was the idea of their father, who was tired of the increasing impersonalization of modern society ("This is his way of protesting, huh?," asked Lucy upon meeting 5, to which he replied "No, this is his way of giving in").
While Bill Melendez was initially afraid that A Charlie Brown Christmas would be regarded as a failure, another member of the animation team said at that first screening, "This show is going to run for a hundred years." Well, Charlie Brown and the gang are halfway there, and still show no signs of stopping. Now that's a whole other type of Christmas miracle.