The following article is MovieFanFare's contribution to the Feb. 8-9 First Annual Buster Keaton Blogathon hosted by Lea at Silent-Ology. You can find a complete list of participating sites here.
At first, it may seem a little odd that the very first film I remember seeing Buster Keaton in turned out to be the final one of his half-century in front of the camera, director Richard Lester's 1966 screen adaptation of the Tony-winning musical A Funny Thing Happened on the Way to the Forum. Please bear in mind, though, that I was only about 10 years old and that this was back in the late 1960s, when "home video" meant your dad bringing out the Super 8 projector to show footage of the family's summer trip to Dutch Wonderland, and the handful of VHF and UHF TV stations out there seemed to have little interest in showing silent movies–at least at the hours I could watch. One thing you could find on the tube back then was recent theatrical films in prime time, and when NBC ran A Funny Thing Happened… as a Monday (or Tuesday; the memory's a little hazy) Night at the Movies, people of all ages watched (It helped stir my interest that we had just studied Ancient Rome in Mr. Baszinski's History class).
Unlike most other 10-year-olds at the time (ahem!), at least I had some idea who Keaton was. I recalled seeing a photo of a straight-faced and sad-eyed man posing, seemingly sans arms, as the Venus de Milo in a massive book–the comprehensive if unimaginatively titled The Movies–that I used in a fifth-grade Halloween report on the life of Lon Chaney. And so I knew he was a comic in silent pictures. Also, there's probably a good chance that I watched him in one of his early '60s TV guest appearances, such as The Donna Reed Show or The Twilight Zone, or even an airing of one of the AIP beach flicks, but never connected the stoic would-be statue with the elderly figure taking pratfalls like a man half his age. So when I saw Buster's name in Forum's opening credits, I was eager to spot him.
First, a little background on Forum for those of you unfamiliar with the film or its many stage revivals. Loosely based on the actual comedies of a 2nd-century B.C. playwright named Plautus, the plotline (originally co-scripted by Larry Gelbart of TV's M*A*S*H) occurs within three neighboring houses of "a less fashionable suburb of Rome." It's here that Pseudolus (Zero Mostel), the empire's "lyingest, cheatingest, sloppiest slave," launches his latest scheme to gain his freedom, in exchange for helping his innocent young owner Hero (a pre-Phantom of the Opera Michael Crawford) win the girl of his dreams.
Said girl, a virgin named Philia (Annette Andre), is newly arrived at the next-door house of money-hungry "flesh-peddler" Marcus Lycus (Phil Silvers) and has been pledged to famed military leader Miles Gloriosus (Leon Greene). To keep Philia from being claimed by her captain, Pseudolus coerces fellow slave Hysterium (Jack Gilford) to assist in his increasingly convoluted plot…one which draws the hapless duo into contact with their other neighbor, Erronius (Keaton), "a befuddled old man" who's spent the last 20 years abroad in search of his two children, stolen in infancy by pirates: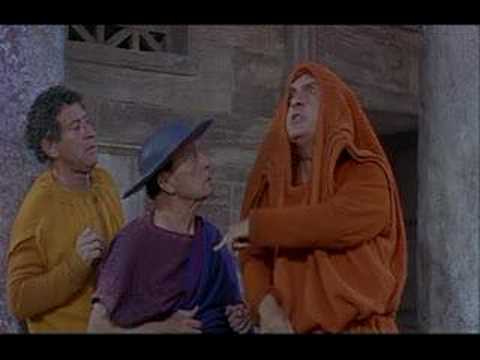 And thus Buster becomes the film's literal running gag, popping up during the proceedings to count off his perambulations around the city and to narrowly avoid being run over by chariots in a wild chase scene, just before praising "the most refreshing climate in the world" and sprinting headlong into a tree branch and getting knocked flat on his back. It's this frenetic chase that brings the story's diverse disguises, mistaken identities and love triangles towards their eventual conclusion, one in which Erronius and the identities of his long-missing offspring figure prominently.
Now, my mission here is not to review A Funny Thing Happened… in its entirety, although I will state for the record that it's one of my top 10 all-time favorites. The cast–especially the inimitable Mostel, whose mugging face regularly dominates the screen–is superb; the fine Stephen Sondheim score includes such memorable songs as "Comedy Tonight," "Everybody Ought to Have a Maid," and Miles Gloriosus' rousing "Bring Me My Bride"; and the dialogue is packed with lines that I laughed at when I was 10 ("Was 1 a good year?") and some I wouldn't get until years later ("If I've told you once I've told you a hundred times, do not fan the girls when they're wet. But you'll never learn, you'll be a eunuch all your life.").
No, friends, Romans, countrymen (sorry), I've come here today to examine Buster's role in the proceedings. And while Erronius is basically a cameo role with only two key scenes, the septuagenarian Keaton makes the most of his screen time (Lester, whose resumé also includes A Hard Day's Night and 1974's The Three Musketeers, was a huge fan of Keaton's silent work and was instrumental in hiring him).
Clad in a purple toga and bedecked with a 1st-century version of his iconic porkpie hat, the ailing comic–who was unaware of the lung cancer inside him that would claim his life in a year's time–endured some cool and rainy Spanish location shooting and gave the role his all (including the running-into-a-tree scene, which he insisted on doing himself, much to the dismay of Lester and the crew). He also delivered his dialogue with that wonderfully laconic, Midwest-flavored voice that seemed only slightly changed from his first MGM talkies. His best line? Told the bewigged Gilford, whom he mistook for his long-lost daughter, was one of Lycus's eunuchs, Buster says disbelievingly, "My daughter a eunuch?"
Unfortunately, Keaton didn't receive the opportunity to join in on any of the songs (save for the closing reprise of "Comedy Tonight," where he gets to wistfully look at the camera and proclaim "I get a family!," which one cannot hear without thinking back to his failed first marriage to actress Natalie Talmadge). The film's last shot is of Buster, deciding he still has a few more laps of the Seven Hills to complete, setting out and winding up running in place on a gristmill before the credits roll.
It's interesting to contrast that final, Sisyphean tableau with the closing image of Keaton from the movie he made before Forum, the Italian WWII comedy Two Marines and a General (eventually released in the U.S. in 1967 as War Italian Style). Here Buster played, of all things, a German general who befriends two Italian-American G.I.s. At the end, the three allies part ways as the general sheds his uniform for Keaton's familiar white shirt, gray vest and pants, and porkpie chapeau before wandering off down the road. For the legendary performer dubbed the Great Stone Face, the 1960s proved to be nearly as innovative and compelling a decade as the '20s, with a "rediscovered" Keaton working with everyone from Frankie and Annette to Rod Serling and Samuel Beckett. At the very end, though, it was back to the basics with a familiar look and a never-ceasing chase.