Wrapping up our three-week retrospective (click here for parts one and two) on the cinematic adaptations of Russell Thorndike's literary anti-hero, Rev. Christopher Syn, we come now to the version that is probably the most familiar to MovieFanFare readers…at least, those readers from the Baby Boom era. One's memories of it may be a little different, though, depending upon which side of the Atlantic you call home.
British audiences got to see it first on the big screen, in December of 1963, as Dr. Syn, Alias the Scarecrow. Over here in the States, we watched it on TV the following February, in a three-episode "mini-series" (before the term was invented) on Walt Disney's Wonderful World of Color, as The Scarecrow of Romney Marsh. Under either title, Disney's take on the mysterious 18th-century do-gooder is a fondly remembered treat that made a quick, triumphant appearance on home video five years ago, only to–like its namesake–vanish like a ghost.
In the wake of their small-screen success in the late 1950s and early '60s with such adventure favorites as Davy Crockett, Elfego Baca, Francis "Swamp Fox" Marion and Zorro, the Walt Disney studio turned its attention to the Dr. Syn stories in 1962…only to discover that Hammer Films was working on a similar project. It's hard to imagine two more disparate film outfits than Hollywood's House of Mouse and England's House of Horror, but an agreement was reached that allowed each company to proceed. Hammer's Night Creatures, featuring Peter Cushing as pirate-turned-parson Captain Clegg/Rev. Blyss (the latter name's change was part of the deal), was first out of the gate in 1962 (my review of it can be found here).  Meanwhile, Disney's Dr. Syn would skip over the title character's buccaneer backstory and focus on his outlaw exploits in southern England, circa 1780.
Patrick McGoohan, who starred in the popular British TV drama Danger Man (later to be revamped and known as Secret Agent) but was still a virtual unknown in America, starred as Dr. Syn, the kindly and taciturn vicar of the rural village of Dymchurch who (Spoiler alert…if you haven't read the first two parts of this series, that is, and if you haven't, shame on you!) by night oversees a band of smugglers as the costumed Scarecrow. Using the proceeds from the contraband liquor, silks, and other goods snuck in from Europe to help the needy of his poor farming community pay the unjust taxes of King George III, Syn carries on his nocturnal crusade against tyranny and injustice with the help of two loyal masked aides: church sexton Mipps (George Cole), alias Hellspite, and the area squire's young son, John Banks (Sean Scully), known as Curlew.
The thrilling opening sequence finds a nocturnal delivery of smuggled booty along the coast interrupted by the imminent arrival of three royal revenue agents. Paying off his French suppliers and barking out orders to his followers in an eerily raspy voice ("Load up and away, lads! We've tweaked King George's nose!"), the Scarecrow and his two allies lead the king's men on a wild chase across the marshes before eluding them in the secret basement of an abandoned barn.
With the smugglers' activities becoming an expensive thorn in his side–despite a sizable reward being offered for their leader, dead or alive–an irate King George (Eric Pohlmann) dispatches non-nonsense army officer General Pugh (Geoffrey Keen) to Dymchurch with orders to catch the Scarecrow and his gang by any means necessary. The fact that this includes bringing in naval "press gangs" to haul off the men of the village for some involuntary nautical duty immediately puts Pugh at odds with Squire Banks (Michael Hordern), who–while (at first) no fan of the Scarecrow–has an eldest son that was shanghaied to sea in just such a manner. It also presents a problem for Pugh's right-hand man, Lt. Brackenbury (Eric Flynn), who's become smitten with Katharine (Jill Curzon), the squire's daughter. This latter relationship, by the way, was a revamping of the love story between Syn's barmaid daughter Imogene and squire's son Harry that was featured in the original books and first two films.
Perhaps sensing that U.S. audiences may not be willing or able to identify with the familial and romantic travails of the English gentry, scriptwriter Robert Westerby worked in two other subplots that play out through the three-part TV presentation; the arrival on the marshes of a fugitive rebel from the American colonies (there was a certain revolution going on across the Atlantic during these proceedings, after all), which gives Syn the chance to offer him sanctuary and speak about the need for all men to be free; and the fate of one of the smugglers who agrees to give up the identities of his fellow scofflaws in exchange for the reward, then attempts to flee with his sons…only to be captured and face the (seemingly) merciless wrath of the Scarecrow. Can Syn make an example of this would-be traitor, help the colonial fugitive escape his pursuers, and put things right in the squire's household, even as Pugh and his men inch ever closer to learning the Scarecrow's true identity?
Airing a few more times in its original format in the '60s and '70s (and later on cable as a trimmed-down two-parter), The Scarecrow of Romney Marsh is a worthy addition to the Syn legacy that ranks with the best live-action Disney features of the era. Filmed in and around the actual English locations in Thorndike's books (Disney even paid to have the Old Romney Church, where Syn preaches, restored), the production values were more in keeping with a feature film than a TV show (that it eventually became both just showed how shrewd a businessman Uncle Walt was. After all, he did the same thing to Davy Crockett and Zorro a few years earlier).  The veteran British cast, particularly Cole and Hordern, do a good enough job, but all of them, as has been the case in the two prior Syn movies, take a back seat to the lead.
A wonderfully underplayed performance by McGoohan as the seemingly innocuous vicar makes his appearances as the macabre Scarecrow, complete with a truly spine-tingling cackle of a laugh, all the more memorable. His "torn and tattered" costume, with wooden stakes jutting out from his shoulders, straw for hair, and a mask that looks like it was painted on (and at times was), is a thing of fiendish beauty. And, to top it all off, there's the classic theme song (Walt also knew, since the days of Steamboat Willie, that a catchy tune can sell a picture) that I've never forgotten since first hearing it as a five-year-old back in '64: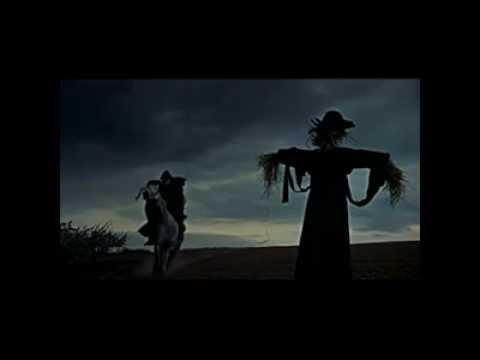 The feature film version, Dr. Syn, Alias the Scarecrow, eventually did reach American theaters in the early '70s (I remember seeing it on a twin bill with Disney's 1950 Treasure Island), and manages to retain the flavor of its small-screen incarnation, even with entire subplots glossed over or cut out.
Unfortunately, the Disney company only gave the Scarecrow the briefest of DVD releases in late 2008, putting out a special two-disc, tin boxed set of both the feature and TV prints as part of its Treasures line. Apparently limited to just under 40,000 copies, it sold out within a month and now fetches a keen price–not as much as a sack of smugglers' gold, but close enough–at online auction sites (Yes, I have my own copy, thanks for asking.). Given the studio's historical (Treasure Island, Peter Pan) and recent (the Pirates of the Caribbean series) success with buccaneer-themed efforts, let's hope that Dr. Syn and his devilish alter ego will ride "from the marsh to the coast like a demon ghost" once again soon.