Sure, you know the elite actors of our modern era and their hit films, but sometimes a certain movie of theirs flies under the radar. Perhaps their performance in a previous movie was stellar by comparison; maybe another blockbuster film eclipsed this one; or could be they just weren't "discovered" yet. Whatever the reason, here are some stars' "lesser" efforts well worth viewing.
WHO (else): Clint Eastwood, George Kennedy
WHAT: Years after pulling a heist where the money went missing, Eastwood and Kennedy are convinced by young turk Bridges that second time's the charm. And it is…until a botched getaway leads to a downward spiral of tragedy.
WHY: Happy-go-lucky Bridges breathing life into the cautionary phrase "be careful what you wish for."
x
WHO (else): Clint Eastwood, Laura Dern
WHAT: This Eastwood-directed tale has escaped prisoner Costner kidnapping a young boy and then going on the lam, staying one step ahead of Texas Ranger Eastwood and criminologist Dern.
WHY: Costner's convict "ain't a good man…ain't the worst neither." He's been dealt a bad hand in life but doesn't wallow in pity. Costner shares a kinship with his young new companion/victim, and tries to impart what he's learned from his hard-bitten life upon the boy. Damaged relationships, conflicted feelings, misguided decisions, and unanswered questions are all part of this imperfect world.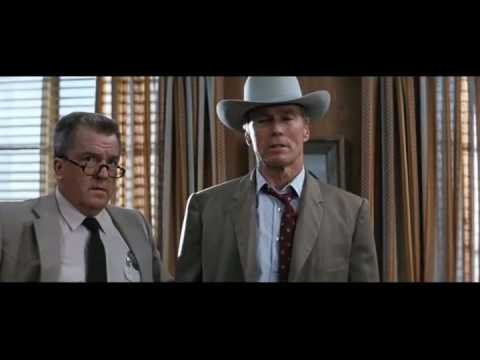 WHO (else): Marlon Brando, Faye Dunaway
WHAT: Psychiatrist Brando takes on suicidal Depp who believes he is the legendary Don Juan. Doctor and patient roles become blurred as they both come to realize that "crazy" is a term that's more subjective than objective.
WHY: Johnny Depp, never looking hotter, delivering smoldering lines that make women melt. (Bastard.)
x
WHO (else): Geraldine Page
WHAT: A Southern girls' school's idyllic, if not anachronistic, existence is shattered by wounded Union soldier Eastwood, who's been given refuge.
WHY: Released in the same year as Dirty Harry and Play Misty for Me, the film was perhaps destined to be overlooked. Even so, it confounded critics and moviegoers alike with many unsavory scenes and its ending outraged even its own studio boss. Pay no attention. This slightly surreal gothic tale keeps viewers off balance, ever questioning the characters' motives and intentions.
x
WHO (else): Sharon Stone, Leonardo DiCaprio, Russell Crowe, Gary Sinise, Lance Henriksen
WHAT: Star-studded western has Hackman as the evil town ruler who sets up a quick-draw competition. However, the pot of money that awaits the winner is not the motivation for some of the combatants, each of whom has their own reasons for wanting to prevail.
WHY: Hackman foreshadowing (and outshining?) his Unforgiven role; an icy-hot Stone and a pre-stardom DiCaprio and Crowe delivering the goods.
x
WHO (else): Sean Connery, Matthew Broderick
WHAT: Hoffman tries to steer bright, college-educated son Broderick away from his gruff, enigmatic burglar father, but when the grandfather/son tandem come up with a heist plan, he decides the best way to keep his eye on them both is to join in.
WHY: The script's comedy, drama and thrills are brought to life by three generations of supreme acting talent.
x
WHO (else): Sam Neill, Billy Zane
WHAT: A doctor and his wife set sail trying to cope with the death of their son, only to find themselves in over their heads when they discover the "survivor" of an ill fated schooner they've taken onboard is, in fact, a deranged murderer.
WHY: The cat-and-mouse play of Kidman & Zane; an unforgettable ending.
WHO (else): Shirley MacLaine, Dennis Quaid, Gene Hackman
WHAT: Carrie Fisher's roman a clef novel translated brilliantly to the big screen by Streep (as Fisher) and MacLaine as her mother. Fresh out of a stint in rehab, Streep must deal with the issues of sex, drugs, and bad relationships that landed her in there in the first place when she is placed under the supervision of her larger-than-life mother whose shadow she has been languishing in for so many years.
WHY: Streep gives comedy another go after the abysmal She-Devil. Though the following year's Death Becomes Her is perhaps her most well known comedic role, Meryl actually won an American Comedy Award for Funniest Lead Actress in a Motion Picture for this one.
x
WHO (else): Casey Siemaszko
WHAT: Seasoned professional burglar Reynolds stumbles across Siemaszko during one of his "jobs" and decides to take the eager youth under his wing. Despite his continued guidance and affinity for him, Reynolds' fastidious nature and high-minded philosophies prove both unattainable and undesired by his undisciplined charge.
WHY: After years of hamming it up in forgettable schlock, Reynolds finds a real (John Sayles-penned) script and gets back to acting.
WHO (else): Don Cheadle, Jennifer Beals
WHAT: Denzel is "Easy" Rawlins, an unemployed vet just back from WWII hired to find a missing white woman…a surefire recipe for trouble.
WHY: For starters, this is a mystery that rises well above the standard gumshoe variety, encroaching upon Chinatown-like depths and nuance. But besides another top-notch Denzel performance, giving riveting support as his volatile friend Mouse is Don Cheadle, who was criminally snubbed come Oscar time.