he following article is MovieFanFare's contribution to the June 25-28 "…And Scene!" Blogathon, spotlighting favorite pre-1970 movie scenes and hosted by Sister Celluloid. You can find a complete list of participating sites here.
The Three Stooges are fondly remembered for many classic comedy moments over the course of their 40-plus-year stage, screen and TV career: slaps to the face (often in double and even triple formation), pokes to the eye, nose twists, pulled-out tufts of hair, fountain pens embedded in the forehead (!), and more custard pie tosses than one can count. For all the slapstick insanity, however, one might think that the trio seem to come up short in the sort of memorable dialogue and wordplay that marked the films of, say, W.C. Fields (the search for "Carl LaFong" in It's a Gift), The Marx Brothers (the contract scene from A Night at the Opera), or even Abbott and Costello ("Who's on First?," as seen in The Naughty Nineties). One might think that…until you see the boys in what's been my favorite Stooges bit for decades, the "Maharajah" sketch from their 1946 Columbia short Three Little Pirates.
The story, in a nutshell; Moe, Larry and Curly are sailors whose New York City garbage scow runs aground and somehow strands them on Dead Man's Island, home of pirates, buccaneers and freebooters, circa 1672. Condemned to death by the island's governor (Vernon Dent) after whistling at his less-than-willing fiancée (Christine McIntyre)–"They're sailors, all right!," confirms Dent–the fellas hatch an escape plan with help from McIntyre. Disguised in ornate robes, turbans, and a pair of not-very-helpful eyeglasses for Curly, they're presented to the governor as gift-bearing "wayfarers from strange lands." Curly is introduced as "the Rajah of Canarsie" and Moe as his interpreter, "the Djinn of Rummy." Larry never gets an alias because…you know, he's Larry.
Once the introductions are made and Dent asks to "make with the gifts," Moe and Curly star conversing in a non-stop nonsense palaver that I'm pretty sure combines Yiddish, German and some other middle European languages (Note for any linguists trying to decipher the dialogue: according to the shooting script of director Edward Bernds, Moe's lines, as dictated by him, begin "Ranzbanyas yatee benee futch ah tinney harongha…"):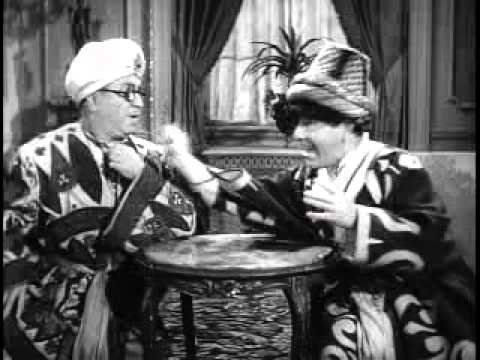 "You like to speak-dat?," asks Moe; "I like to talk-dat," replies Curly. And "talk-dat" they do. The two manage to call Dent a "pickle-puss," "frog-head" and "iron-head" as Curly searches his pockets for presents to give to the governor. He comes up with a raspberry lollipop, which Dent mistakes for "a ruby as large as a turkey's egg" ("I have many pigeon-blood rubies, but never have I been given the raspberry!," says Dent), and a fountain pen that is presumed to be "the tusk of a black walrus" ("Guaranteed forever," proclaims Moe, to which Larry finally chimes in with, "You should live so long"). Meanwhile, every time Moe mentions the "Maha," Curly jumps up with "Aha! Ranzbanyas yatee benee futch…," only to be told by Moe to sit down, which leads to him missing his seat, doing a 180-degree faceplant and exclaiming, "Ranzbanyas yatee benee futch I fall down!" Finally, when the governor is assured that the Maharajah's domain "on the islands of Coney and Long" is filled with beautiful women, he sends the trio "on [their] way with winged feet" to fetch him back some.
Does the Stooges' "ingenious" masquerade work? Well, I'm not here to review or give away the entire short. Let's just say there's a great fight scene against cutthroat corsairs at the end, with some trick knife throwing by Curly and a temperamental pinball machine, and leave it at that.
The "Maha" sketch was one that the Stooges had performed during their pre-Hollywood vaudeville days, and they first brought it to the screen–a condensed version of it, at least–in a 1941 Columbia musical comedy, Time Out for Rhythm, where the trio are actors looking to audition for Rudy Vallee and Richard Lane's talent agency. When brother Shemp Howard rejoined the team after Curly's retirement, he would assume the role of the Maharajah in their late '40s and early '50s appearances on such TV programs as Texaco Star Theater with Milton Berle. In the '60s, new "Third Stooge" Curly Joe DeRita performed the routine with Moe and Larry on TV and in their 1963 feature film The Three Stooges Go Around the World in a Daze. And an septuagenarian Moe played interpreter for maharajah Mike Douglas (!), with fellow guest Soupy Sales as their knife-throwing victim volunteer, in a 1973 episode of Douglas's Philadelphia-based daytime talk show.
For all the laughs it contains, there's a very bittersweet feeling one gets today from watching the "Maha" scene and the rest of Three Little Pirates, because this was Curly Howard's next-to-last short as the "Third Stooge." Having suffered several minor strokes in late 1944 and early 1945, the then-42-year-old actor was being treated for hypertension and weight-related health problems. The toll which this and a divorce proceeding around the same time took on him was obvious from his haggard appearances in the shorts the trio made in '45 and '46. In fact, Curly and Moe's big brother Shemp, who had a busy film career of his own, was already filling in for his ailing sibling at the trio's stage appearances.
During the filming of Three Little Pirates, however, Curly seemed much improved. His voice, while still having lost some if its timbre, was stronger, and he was able to do a few of the more physical stunts himself (including that marvelous 180-degree somersault out of his chair). Director Bernds, who began helming the Stooges' short during these years, later recalled, "I guess I should be thankful that Curly was in one of his 'up' periods, because it was strange the way he went up and down…In Three Little Pirates, he was terrific. It was the last flash of the old Curly."
Indeed, one month after Three Little Pirates was finished, the Stooges were wrapping up filming Half-Wits' Holiday when Curly had another stroke on the set, one that sent him to the hospital and ultimately led to his retirement from performing (he did have a cameo as a train passenger–his only screen appearance alongside Moe and Shemp–in 1947's Hold That Lion). The man-child comedian overwhelmingly recognized as the most popular member of the team would pass away in 1952, at the age of 48. And while Curly, Moe and Larry gave audiences dozens of unforgettably funny moments, it was this one–a scene that must have been difficult for Curly to finish, but one that he gave his all–which I'll always remember most fondly.