One actor. Two film roles. You tell us which portrayal was the best. The most memorable. Or iconic. Or simply your favorite.
But before you pass judgment, a few words defending the "character" of each…
The case for Lorelei Lee
Gentlemen Prefer Blondes was a real turning point for Marilyn Monroe. Previously she was cast in supporting sexpot roles and was not particularly adept in her acting skills. In Gentlemen she would be required to sing, dance and act. Co-star Jane Russell noted her dedication in staying long hours to perfect her scenes. It paid off. Gentlemen garnered rave reviews, box office pay dirt (sixth highest grossing film of the year), and Monroe's acting was impressive. Most of all, though, the film was the making of a sex symbol. Sure, Marilyn Monroe was quite the bombshell before, but the musical number "Diamonds are a Girl's Best Friend" sent her into the stratosphere. A star is born:
.
The case for Sugar Kane Kowalczyk
Tales of Marilyn Monroe's appalling behavior on the set of Some Like it Hot are legendary. Doesn't matter. The movie is pure magic (#1 on AFI's 100 Years…100 Laughs list) and Marilyn never looked or performed better (she won a Golden Globe for Best Actress). Does her quick wit come by chance? Are her expressions and gestures happy accidents, each and every one? Is her impeccable comic timing happenstance? Her snappy dialogue a fluke? I think not—it's called acting. Combine all that with her innate sexually charged persona and you have a finely tuned performance that is truly mesmerizing. Watch her sing "I Want to be Loved by You" and prepare to be seduced: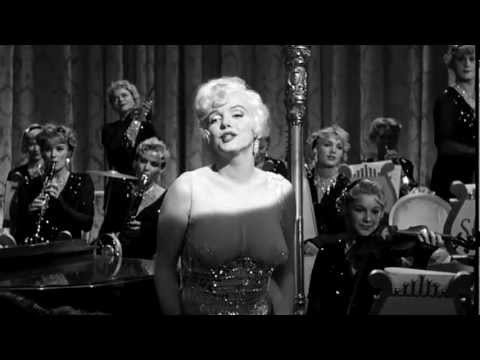 .
Now that you've heard the arguments for both it's time to render your verdict!