I grew up with Mickey Rooney. Not literally, of course – I was born and raised in Philly and Mick hailed from the West Coast. I'm talking about a steady diet of Mickey Rooney movies that I can trace back to my earliest movie-going days. I used to frequent two theaters in the Logan section of Philadelphia: The Logan Theater and The Rockland Theater, both located on Broad Street. Many times theater management would throw in some old stuff and, invariably, a Mickey McGuire short subject would show up — we were just kids and who knew they were old?
I saw Love Laughs at Andy Hardy when it was new in 1946, but the other features I saw were definitely reissues — only as kids, we didn't know it at the time. Captains Courageous is one I recall seeing in those days. I still remember wanting to haul off and smash Freddie Bartholomew in the kisser — he was such a pain in the butt and that British accent of his was always a mystery to me because his dad, played by Melvin Douglas, certainly didn't talk that way. I can't say I remembered Mickey Rooney was in that movie — I'm pretty sure I discovered that later on from TV viewings.
Another I definitely saw back then was Boys Town. That was from 1938 and I couldn't have seen it as a new release, but I still remember theater owners passing those cans up and down the aisles collecting loose change for Father Flanagan's School. It usually started out with a short subject with Father Flanagan himself up there on the big screen, asking us to open our hearts. I could never contribute because my parents sent me to the movies with only 16 cents: 11 cents to get in and a nickel for a box of Jujyfruit. Thinking back on it now, I'll bet between my friends we couldn't have scraped up any extra cash even if we wanted to give.
Mickey also showed up in another MGM re-issues, Young Tom Edison. It seems like yesterday that I got so upset when Eugene Palette (who I recognized as Friar Tuck from seeing the umpteenth reissue of The Adventures of Robin Hood) boxed Mickey's ear hard, drawing blood and giving him permanently impaired hearing (only in the movie, of course). Gosh, he was mean! And I didn't realize it then, but the guy who played the part of the Edison family's nemesis, Victor Kilian, had also co-starred with Rooney earlier in The Adventures of Huckleberry Finn, as Huck's deadbeat dad.
It's not likely I saw The Human Comedy in its first go-round, but it seems like I caught it sometime in the '40s. I remember it pretty well, and the scene where Mr. Grogan snores his last snore and Mick finds him dead brought genuine tears to my young eyes. As touching moments go, it probably was intended to jerk a tear, but I should explain…no one in my family had died up to that point and I didn't know anyone else who has passed away, either. Most folks who saw this movie, I'd wager, can't help genuinely liking Mr. Grogan and feeling sad at his passing; after all, he was played by Frank Morgan and how could anyone not love this charming guy from The Wizard of Oz?
I gotta be honest about the series of musicals Mick made with Judy Garland from 1939 to 1943. They leave me unsure if I saw them in my young moviegoing days as reissues or in art house showings in the late '50s and early '60s. Admittedly, I'm kind of fuzzy on the specifics, but all that "let's put on a show" stuff is just too familiar to me for them to be movies I only know as an adult, especially Girl Crazy. I remember it just too well.
National Velvet, co-starring a 12-year-old Elizabeth Taylor, is another of Mick's flicks which I got caught up in. I liked everyone in the movie, not knowing then who they were, but Velvet's kindly dad (Donald Crisp) and sweet-natured mom (Anne Revere) as well as her little brother (Butch Jenkins) were like family to me — at least for the 123 minutes I spent watching Mickey and Liz try to figure out a way to move the film along to a happy ending.
Three movies from 1949 and 1950 also stayed with me. The Big Wheel, the one about stock car racing, and Quicksand, where Mickey gets in too deep with the bad guys, were seen as new releases — well, as second-run new releases (in those days, only big center city theaters got them first). As for The Fireball, Rooney's roller derby movie, it was so exciting because early television had that sport on all the time — just about every night. I didn't care for Mick in that one, though — he was too much of a hotshot for my liking. Probably the best thing about that movie was Pat O'Brien, who I already knew as a priest from so many other pictures where he played men of the cloth. You gotta hand it to the guy, he sure was good at it. I wasn't even Catholic but I wanted O'Brien to be my priest. These were among the last films I saw at Saturday matinees. Around that time I sort of drifted from going on Saturdays and switched to Friday nights, mainly because my friends switched. It must have seemed more grown up, I'm not sure.
I probably saw Words and Music for the first time in 1948. I can't say for sure; I definitely remember it most from reissues in the early sixties. MGM did a series of old musicals as reissues in either '62 or '63 and I remember dragging my then girlfriend Brenda (who I should have known would become my wife) to the old Suburban Theater in Ardmore, PA every Wednesday night to see all those old MGM musicals, I think it was a six-week series, Words and Music being part of it. Mickey was darn good as a somewhat unhappy lyricist Lorenz "Larry" Hart.
From that point on, I probably saw more of Rooney on the small screen. 1954's The Bridges at Toko-Ri came out about the same time as Mickey's first TV series, aptly entitled The Mickey Rooney Show. I was to discover later that Blake Edwards was head writer of the sitcom. Believe it or not, I was one of the small group that supported Rooney taking over for Donald O'Connor in the last entry in the Francis the Talking Mule series,  Francis in the Haunted House. Crazy as it sounds, I once heard someone say that Mickey is no Donald O'Connor. Funny, eh?
Mick's dramatic turn as The Comedian on TV's Playhouse 90 was another unlikable character, sort of like the guy in The Fireball, but much more abusive. On the other end of the spectrum, he was the lead in the 1947 boxing film Killer McCoy and played George M. Cohan in 1957's Mr. Broadway, one of those all-star specials popular in the early days of TV.
He remained active on the big screen in the late '50s with Operation Mad Ball, Baby Face Nelson, The Last Mile, and–believe it or not–one more stab at his old safety net, Andy Hardy Comes Home. But it was mostly TV work for Mick as he guest-starred on some popular series of the day. He did manage to return to the ring–in the movies, that is–as Anthony Quinn's humble trainer in the 1962 movie version of Requiem for a Heavyweight.
During that period, the only films I remember paying to see were Breakfast at Tiffany's in 1961 and It's a Mad Mad Mad Mad World in '63, but I got a lot of mileage of water cooler talk when one night I caught the Jack Paar show where Mick walked off during his interview. I can't remember exactly what happened (it's been about 50 years), but the best part was when Rooney told Paar he didn't like his TV show and I guess Jack invited him to leave or something like that. That's live TV for ya.
His output in the final decades of the 20th century didn't draw me to theaters much, with a few exceptions: That's Entertainment in 1974, the Disney live-action/animated Pete's Dragon in 1977, 1979's The Black Stallion (which earned the actor his fourth Academy Award nomination), the TV version of the movie, The Adventures of the Black Stallion (1990-1992); and then in 2006 with Night at the Museum. But throughout those years, I still was able to get my fill on catching Mickey occasionally as a talk show guest or in a made-for-TV movie.
One I liked a whole lot was the TV movie Evil Roy Slade, a hoot of a western comedy with a lovable cast. And his interview with Robert Osborne on TCM is a great one. I learned so much about old Hollywood from a guy who knew all about it since he was there for a lifetime. From Mick's perspective, Louis B. Mayer was not at all a lecherous old tyrant (as some have said) but a father figure with his heart in the right place — and frankly, I felt pretty good hearing that.
I found one of the Mickster's quotes that tells a lot about him. His steadfast attitude and his being able to keep afloat in showbiz his entire life earned him the right to say, "You've got to recognize, there will never be another you. It has nothing to do with ego; it happens to be the truth. There will never be another person the same. There'll never be another you. There'll never be another me . . ." Now, with the news that of his passing this past weekend at the age of 93, it's clear that there, indeed, will never be another Mickey Rooney.
Watching his old movies keeps Mick's talent vibrant for me, like in this theatrical trailer for 1938's Boys Town: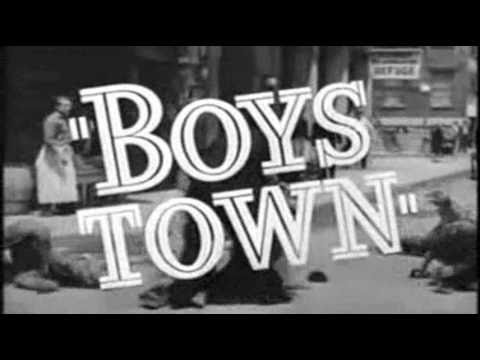 For a more comprehensive offering on Mickey Rooney's fabulous personal life and career, head over to Jay Steinberg's article, "Mickey Rooney: All Singing! All Dancing! All Terrific!!!"  And you might also enjoy "My Life with Andy Hardy: Carvel, USA" by guest writer Victoria Balloon.
 Jerry Frebowitz, president of Movies Unlimited, started selling movies for home use in 1975. First, as a hobby, then by 1978, through a small direct mail catalog, which eventually grew into the big 800-page version seen today. Jerry is an avid movie fan and collector and particularly enjoys classic films from the 30s, 40s and 50s.