Guest blogger Victoria Balloon writes:
Already popular in comics and radio, Superman had previously starred in two serials: Superman (1948) and Atom-Man vs. Superman (1950) If our hero could leap tall buildings in a single bound, surely he could make the leap to a feature length film? Superman and the Mole-Men (1951), written by Robert Maxwell and Whitney Ellsworth ("Richard Fielding" was the team's screen-credit) was the first Superman movie and would begin the journey of America's greatest superhero into the unknown territory of a new medium: television.
In a plot that seems straight out of today's headlines, Daily Planet reporters Clark Kent and Lois Lane try to get the scoop on the deepest oil well ever drilled, only to find the mine boss shutting down the site without explanation. Kent looks for clues and Lane calls the sheriff; while on the phone Lois glimpses two creatures having the "bodies of moles… with great big human heads!" (Thus endeth any similarities to today's headlines.)
Meanwhile, the Mole-Men wander into town with their furry sleeper pajamas (several scenes clearly show zippers) and cotton-stuffed, barely-disguised swim caps, The Mole-Men look more worried than horrifying.
From a 1995 interview Make-up artist Harry Thomas (The Neanderthal Man, Plan 9 From Outer Space) recalled, "I figured if they were going to be friends of Superman, he was supposed to save them and be sympathetic toward them, they should look sympathetic. They should look mild-mannered and not be frightening. I tried to get that in the make up. I drooped their eyes down and made them look more soulful, so that the sympathetic feeling that he had for them had a reason." (Check out Thomas' full interview with Count Gamula at Monster Kid Online Magazine)
Makeup was not the only obstacle the low-budget production from Lippert Pictures had — flying sequences also presented problems. Naturally the Fleischer's animated Superman had no problem with flying, and the Columbia serials also used animation, sandwiched between live action take-offs and landings, to show the Man of Steel in flight (Superman did a lot of landings behind parked cars, bushes, etc. in order to make the transitions less abrupt).
For Superman and the Mole-Men, Superman did relatively little flying — one scene with a first-person viewpoint of flying (filmed backwards, as if Superman flew looking over his shoulder) and, for a key scene of leaping from the top of a dam, one terribly abrupt animated sequence.
Modern fans have mixed feelings about the film, particularly its special effects. "Why couldn't he have flown like Republic Pictures' Captain Marvel?" Some find the story a sophisticated cautionary tale; others find the pacing pedestrian and the plot full of holes.
Shortcomings aside, one is disinclined to laugh outright at the film. Despite elements that seem primitive to today's audiences, Superman and the Mole-Men is more gritty noir than camp. With sixty years of perspective, what the Mole-Men show us about the paranoia and uncertainty of post-war America is every bit as important as the idealism Superman represents. That Superman alone is able to solve complex social and technological issues — beings from the unknown and mob psychology, radiation and the perils of deep-well drilling — makes the film all the more unsettling. The unknowns were real, but Superman wasn't.
Despite being low-budget, the film was cast with veteran actors. J. Farrell Mac Donald (Pop Shannon) was a particular favorite of director John Ford and a featured favorite in several classic films directed by Frank Capra. Frank Reicher (Hospital Superintendant), best known as the captain of the ship that went seeking Skull Island in 1933's King Kong. Superman and the Mole Men was Reicher's last film.
Billy Curtis and Jerry Maren as the Mole-Men, were both were former munchkins in The Wizard of Oz (1939). Curtis was featured in his screen debut as sheriff-hero Buck Lawson in the politically incorrect all-"midget," musical western The Terror of Tiny Town and starred with Clint Eastwood in High Plains Drifter (1973). Jerry Maren, keeping active with many roles in film and television. including The Twilight Zone and Seinfeld, also served for many years as the Oscar Meyer Weiners mascot.
Phyllis Coates got her start playing Alice Mc Doakes in the Warner Bros. Joe Mc Doakes shorts. Because she feared being typecast, she only played Lois Lane for the first television season. During the second season Lane was played by Noel Neill, who had already played the role in the Superman movie serials.
Though he didn't appear in Superman and the Mole-Men, Jack Larson ultimately played the role of cub reporter Jimmy Olsen in the television series. Always the one to be captured and/or beaten within an inch of his life by thugs, like Reeves, Larson was also typecast and unable to move beyond his trademark line, "Jeepers!" He quit acting to become a playwright and produced such films as Mike's Murder (1984) and Bright Lights, Big City (1988).
Kirk Alyn, the Superman of the movie serials, who also feared being typecast, turned down the role (and at 40 was perhaps disinclined to continue a career in tights). George Reeves seemed like a natural, with his athletic build and boxing experience, but was initially hesitant. Much as stage actors of the 1920s viewed movies as "unimportant," film stars of the 1940s were reluctant to venture into the new medium of television. Reeves hoped to continue in film but was running out of options.
Sadly, what most people remember about George Reeves is his sensationalized death. What is certain: on June 16, 1959, Reeves was found shot in the head, and the people present were too intoxicated to give a coherent story about what happened or why they waited forty-five minutes to call the police. As early as a few days later there was a question about whether Reeves' death was suicide or murder. From then on there has been endless speculation in a convoluted tale of adultery, cover-ups, and previous murder attempts. Reeves' death has been re-examined as recently as 2006 with the release of Hollywoodland, a film based on Reeves' death and the ensuing investigation by a private detective hired by Reeves' mother.
That Reeves died as he did is a tragedy. It is also a tragedy that his death has overshadowed his acting accomplishments. His first big film break was his role as Stuart Tarelton in Gone With the Wind (1939). Under director Mark Sandrich, Reeves had his first starring role as Lieutenant John Summers opposite Claudette Colbert in So Proudly We Hail (1942).
Unfortunately, like many other actors during the war years, Reeves returned from service in the U.S. Army Air Forces to a changed Hollywood. He may not have viewed the Superman television series as the pinnacle of his acting career, but Reeves always took his role as Superman seriously, particularly when it came to his public image as a hero of children.
As soon as filming ended on Superman and the Mole-Men, filming for the television series began on the back lot at Culver Studios. Much has been said about the camp factor of the later seasons — the low-budget wardrobe, the recycled footage, and scenes played for laughs — and some have cited these shortcomings as reasons for the drinking and depression that led to Reeves death. However, the first season of The Adventures of Superman (1952) was very different.
Television was still a young medium, and in 1951 the Federal Communications Commission had only just put in place the laws and licensing that would allow television to become a national phenomenon. Inasmuch as early movies looked to the theater for inspiration (leading to very "staged" films), television looked to movies. With a cinematic past of detective stories and gangster films, the first season of Superman had more in common with the dramatic tension and stark lighting of film-noir (keeping in mind, of course, that Phillip Marlowe never wore tights). The half-hour episodes were stand-alone "mini-movies," mysteries solved by Superman, but often in scripts carried mainly by Jimmy Olsen or Lois Lane.
Nevertheless, there is no denying that these were low budget, B-list productions with glaringly bad effects. The platform beneath Reeves is visible when Superman flies, and the footage is recycled again and again. Cuts between shots of bodies falling/landing and Superman demonstrating his super-powers (best rubber knife scene ever!) are just plain awkward and poorly executed. Even basic production issues were a problem; there are several scenes in which the shadow of the boom-mike is clearly visible and characters cast flat shadows on the flat, painted backgrounds.
Noticing (and indeed, enjoying) these bad special effects issues is a luxury of flat screen-televisions, remotes with pause/replay, and master prints on DVD. On a 15-inch B&W set with dubious picture signal, these details would never have been seen. Perhaps more importantly, they would have been irrelevant to the target audience. Across America, children loved Superman in the comics and they loved him on the radio. Seeing him, actually seeing Superman fly and battle crooks and save Jimmy Olsen just in the nick of time was, according to author Gary Grossman, "scary, wonderful, intriguing stuff!" Every fan who grew up watching the TV series knows that nothing trumps childhood memories.
Superman and the Mole-Men appeared in the television series as a two-part episode called "The Unknown People." But using a feature film to create television episodes was a trick that worked both ways; some of the 1953 television episodes were pieced together and distributed as films. Thus we have Superman's Peril, Superman Flies Again, Superman In Exile, Superman in Scotland Yard and Superman and the Jungle Devil, all released in 1954 by 20th Century Fox. To make the transitions between episodes smoother in the finished features, the cast was brought back to film brief sequences to act as bridges.
The low-budget restrictions applied to marketing budgets and promotional materials, as well as to production values. For the theatrical TV trilogies, it appears no trailers were made. Then there is the curious decision to produce posters and lobby cards that showed Superman wearing a yellow suit, rather than the signature blue from the comics and cartoons.  Reeves actually wore a yellow suit for the early black & white TV episodes, as yellow filmed better than blue.
Five feature films from one season of a television series may seem a bit excessive, but in the early 1950s, double features were still big at weekend matinees. As each film was essentially three Superman episodes, running a combined 77 minutes each, these films fit the bill — literally. The Adventures of Superman was syndicated to TV stations market-by-market and the occasional feature-versions were calculated to stimulate demand for local TV stations to carry the series. It was also a great way to get Superman out to areas in the country that did not yet have television coverage.
As a character, Superman is too good to be absent from either the large or small screen for long. It is worth noting that although newer Superman titles have various producers and writers, each modern incarnation of the Man of Steel has given a nod to past films by inviting previous actors from Superman venues onscreen for cameo appearances. Kirk Alyn and Noel Neil appear as young Lois Lane's parents in Superman (1978), while Phyllis Coates played Lane's mother on a 1994 episode of Lois and Clark: The New Adventures of Superman. Christopher Reeve and Margot Kidder (Superman and Lois Lane from the 1978 film) appeared on several episodes of Smallville, and Jack Larson reprised his television Jimmy Olsen role in Lois and Clark. The 2006 film, Superman Returns, has appearances of Larson as Bo the Bartender and Neill as Gertrude Vanderworth.
Fans of Superman have posted insightful comments on Superman and the Mole-Men and the television series at various sites on the Internet, and one of their most passionate debates is who is the real Superman, Reeves or Alyn? Although Kirk Alyn had played Superman in the Columbia serials, these "chapter plays" did not get much play on television and were not made available for the home market until the 1980s. Until the release of Superman with Christopher Reeve in 1978, George Reeves was the face of Superman.
The spirited debate demonstrates that, almost three-quarters of a century since he first leapt from the pages of Action Comics, Superman is as relevant today as ever. Whether fans believe in older incarnations or newer versions appearing in film, television, and graphic novels, the Man of Steel still resonates with the American psyche — and always will.
George Reeves took his role as a superhero very seriously, and in both public and commercial appearances was always acutely aware of how his actions might be perceived by children. Stamp Day for Superman (1954) was made in conjunction with the U.S. Department of the Treasury and distributed to schools in order to promote the purchase of U.S. Savings Bonds. It was never shown on television, and for many years was difficult to find. See it now and enjoy the nostalgia: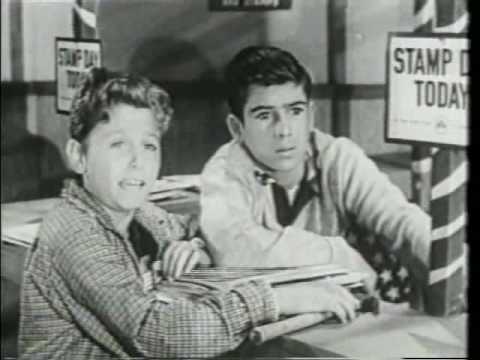 Looking for more great articles on Classic Superman? Please Checkout the following articles:
Superman: The Columbia Serials
Victoria Balloon is a writer, classic film enthusiast, and pop-culture pundit. In addition to knitting small appliances, Victoria is currently involved in helping to bring back the Matinee At The Bijou TV series in an HD sequel to be hosted by Debbie Reynolds.