Here are 10 trivia facts about Jurassic Park from 1993, which originally appeared as our Mystery Movie Quiz on our Facebook page. There are hundreds of pieces of behind-the-scenes information about this movie. Please feel free to comment and add more trivia we might have missed.
1. The movie centers on a controversial topic.
Michael Crichton's thriller is about the biotechnology industry and the hazards of genetic engineering. Although strides are being made which can lead to higher qualities in animals and humans, Jurassic Park points out it can also lead to some very dangerous side effects. It's been said that Crichton conveyed his personal beliefs about science and genetic engineering through Jeff Goldblum's character, Dr. Ian Malcolm.
2. One of the stars was an Academy Award winner; actually won twice.
Steven Spielberg chose fellow director (and sometime actor) Richard Attenborough to play John Hammond. Coincidentally or possibly not, Attenborough was being directed by the man who, 10 years earlier, contended with him for two Oscars in the same year — as Best Director in 1983, Spielberg for E.T. and Attenborough for Gandhi and for Best Picture as well, when Attenborough's Gandhi garnered both awards.
3. The female lead's parents are both actors.
Laura Dern, born in 1967, is the daughter of Bruce Dern and Diane Ladd, both successful actors. As a result of her presence in and around the movie business, Laura played many bit parts as a young girl. Interestingly enough, her mother appeared in another dinosaur movie that very same year, Carnosour.
4. There's a bathroom scene in the movie.
Martin Ferrero may not have known it at the time but the use of CGI technology was drastically changed when Donald Gennaro, playing an unlikeable lawyer, abandoned the children in their SUV as he ran for the safety of the nearest out-house. With doors locked and thinking he was saved, audiences saw something they hadn't seen before, at least not with this level of believability.
Well, let's not get too gross… but hold that thought — we'll get back to this later on.
5. This movie is based on a popular book.
Michael Crichton's books have attained very high rates of success both as novels and movies. When word was out about his forthcoming book Jurassic Park, six major studios were interested immediately, each with their own different choices for director. The story goes that Crichton was trying to avoid a bidding war and only wanted the best movie he could get. Spielberg was already high on Crichton's list when Universal supposedly paid $2 million for the film rights even before the book was completed.
6. One of the actors is best known for playing intellectual characters.
Jeff Goldblum appeared in some of 1990′s biggest box office spectaculars including Jurassic Park (1993), The Lost World: Jurassic Park (1997) and Independence Day (1998). All three movies showcased Goldblum's propensity for portraying characters of extreme intellect. Maybe it's his quirky delivery or his own unique ability to play eccentrics and intellectuals like scientists or professors but audiences always believe him to be authentic in those parts. Jeff once said, "I don't think of it that way. I'm just flattered playing smart guys who get to figure out before anybody else what's going on."
7. The film was the first to use this sound system.
Jurassic Park was the first movie to be made using the DTS sound system. With Spielberg's help, it also became the first movie released containing DTS sound for home use – it was the laserdisc version of Jurassic Park in 1997.
8. At one time, it was the highest grossing film of all time.
Jurassic Park, made years before the likes of Pirates of the Caribbean and Harry Potter, was at one time the highest-grossing film of all time. After its release, other films have had bigger successes but Jurassic Park still remains in the top 15 highest-grossing films of all time, even allowing for inflation. The two biggest box office giants to date were both directed by James Cameron: Avatar (2009) and Titanic (1997).
9. One of the actors is best known for his recurring role in a TV Sitcom.
Wayne Knight auditioned for George Costanza's role in the legendary TV series Seinfeld, eventually landing the part of Jerry's neighbor, Newman the mailman. Knight has been in movies since 1979 and was also on hand in another top-grossing movie, Basic Instinct, as one of the detectives questioning beautiful blonde Sharon Stone in her legendary "crossed legs" scene.
10. Special Effects were a highlight of the film.
The use of special effects was changed for all time with Jurassic Park. It's been reported that Steven Spielberg expressed concern about computer graphics — that they might look like video game quality — and accordingly, he intended to use computer-generation very sparingly. However, once he saw the actual computer dinosaurs in action, he was convinced that computer-generation was the way to go for a good portion of the film. Scenes of full dinosaurs were computer-generated but close-ups of parts of a dinosaur were accomplished with the use of animatronics, with which Spielberg was very experienced. It is widely believed that the heart-pounding scenes in the kitchen involving Hammond's grandchildren (played by Ariana Richards and Joseph Mazzello) were completed using computer graphics due to the difficulty of working around a maze of wires and rigging.
Even more trivia: Michael Crichton and Steven Spielberg actually met about 23 years before the filming of Jurassic Park. When Spielberg first started at Universal, involved with Rod Serling's Night Gallery, he was asked to give a private studio tour to a young man who had just made a deal with Universal for his book, a science-fiction tale called The Andromeda Strain. Not a bad chance meeting for 25-year old Spielberg.
Sit back and relax and get a glimpse of things to come in this theatrical trailer from Jurassic Park from 1993: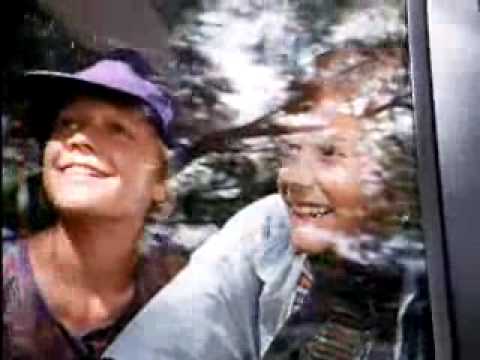 And now as promised, let's return to the bathroom scene as mentioned above … here it is for all to enjoy!